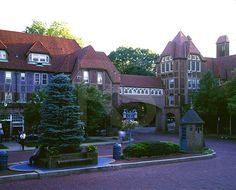 ACCESSIBILITY

Forest Hills is actually pretty accessible. In terms of regular subways, the (E, F, M, & R) trains can bring you into Forest Hills from most parts of Manhattan. Expect a 25-35 minute commute to get to Midtown East (53rd Street & Lexington) and 30-45 minute commute to Times Square. For those who prefer not to take the subway, there is the LIRR station that will provide a faster travel (18 minutes or less to Penn Station) for a higher cost.
For above ground travel, the (Q23) bus can provide you a pretty flexible travel across Forest Hills. However, aside from the (Q23), the (Q38) can provide horizontal travel through the neighborhood. In the end, though, walking through this beautiful neighborhood is memorable and an experience you don't want to miss.
LIFESTYLE
Featuring one of the most beautiful mini neighborhoods within a neighborhood, Forest Hills also houses the Forest Hills Gardens (not actually a garden,) that includes an eclectic mix of tutor style and victorian style homes. You'll find many residents simply walking through the tree-lined streets enjoying the relaxation of non-city life. There are the typical shopping strips such as Metropolitan Avenue and Austin Street where you will find many vintage shops and family owned eateries. However, for those interested in an area that rivals Central Park, then the Forest Hills Park is the place for you (and possibly a french bulldog). Enjoy running tracks, tennis courts, golf courses, and hiking paths to impress your friends that you do go out more than just to pick up pizza. Overall, the idyllic residential lifestyle found in Forest Hills rivals that of the Upper West Side; however, one may argue that it is even quieter and more relaxing.
RESTAURANTS & BARS
Not just known for its beautiful scenery, Forest Hills boasts some amazing restaurants and cuisines. One of them being the Forest Hills Station House. For those days you say "hey, I want some Udon noodles with some Poutine, the Station House can and will deliver. Featuring a very diverse menu with items that will never fail to entice the tastebuds, this restaurant/pub is a winner. For a fantastic brunch menu Jack & Nellie's has long lines and for good reason. Come early and come hungry because when you leave, your feet will have trouble adjusting all the weight you just gained. We recommend their iconic Steak and Eggs; maybe we're just a sucker for steak but Jack & Nellie's version is tender and way too small a portion (despite having two plates).
Bars are just as relevant and iconic as the restaurant scene. Not just known for their diverse foods, the Forest Hills Stations House (yes, again) does provide some amazing cocktails and bitters. Try their Old Fashioned and be amazed at how the world's first cocktail can change your life. For just an overall great atmosphere where you can get a great beer on tap while watching the METs win again, the Tap House is a fun and inviting sports bar. Open extremely late, come inside for their legendary happy hour and…well….leave happy.
COST

Not quite at the threshold of Manhattan, Forest Hills is not as affordable as other Queens neighborhood, however. There is always a price to pay for relaxation and some great scenery. The median sales price comes out to be $1,092,500 and $3,450 for the median rent. While Manhattan still leads at $1.2M and $5,300 in sales and rental price, respectively, Forest Hills is seeing a rise in cost.

IN SUMMARY
We absolutely love our "hometown" of Forest Hills. It is rare to see such a drastic change of scenery within New York, especially one that is accessible via subway. Forest Hills boasts so much natural greenery that walking through the Forest Hills Garden during fall can be romantic (with your dog) or just calming for the senses. In a state where taxi cabs honk and the risk of being run over by a bike is high, it's nice to escape from it all and enjoy smelling the roses (literally). Come to Forest Hills for the easy commute via the LIRR and stay here forever as you are transported to another world, away from the hustle and bustle of New York.

LINKS

COMING SOON!